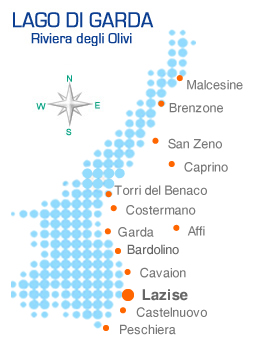 Hoteliers Association Lazise
The Lazise Hoteliers' Association works to safeguard the interests of its members and the entire hotel category with the local council and other institutions, working in cooperation with the local businesses, social and cultural associations.

Besides hotels, other tourist enterprises are also able to enrol with the Lazise Hoteliers' Association: residential buildings, holiday flats, rooms, agritourism with rooms, and other similar businesses.
The Lazise Hoteliers' Association is a member of Federalberghi Garda Venetoand, through this, of the national and regional Hotel Federations.
---
EXECUTIVE OFFICE

Chairman:
Virginia Torre
Hotel Sirena
Vice Chairman:
Marco Lucchini

Hotel Olympia

Treasurer:
Stefania Gloria

Hotel Tecla

Directors:
Mauro Campagnari
Hotel Da Roberto
Marco Casarola
Hotel Principe di Lazise
Francesco Todesco
Residenza Corte Casara
Stefano Vanessi
Hotel Castello S. Antonio
---

MEMBER ENTERPRISES
show/hide list


CAT
DENOMINAZIONE
STELLE
LETTI
LOCALITA'
H
CORTE VALIER
****S
168
LAZISE
H
PALAZZO DELLA SCALA
****
69
LAZISE
H
PRINCIPE DI LAZISE
****
171
LAZISE
H
ALLA GROTTA
***
24
LAZISE
H
BENACUS
***
51
LAZISE
H
CANGRANDE
***S
35
LAZISE
H
VILLA CANSIGNORIO
***
16
LAZISE
H
CLASSIQUE
***
19
LAZISE
H
CONFINE
***
76
LAZISE
H
DA ROBERTO
***
60
LAZISE
H
GIULIETTA ROMEO
***S
88
LAZISE
H
LAZISE
***
146
LAZISE
H
LE MURA
***
51
LAZISE
H
OLYMPIA (RTA)
***
18
LAZISE
H
PARC HOTEL CASA MIA
***S
84
LAZISE
H
RELAIS AGLI OLIVI & SORRISO
***S
32
LAZISE
H
SIRENA
***
37
LAZISE
H
SMERALDO
***
62
LAZISE
H
AL PESCADOR
**
124
LAZISE
H
BELLA LAZISE
****
144
LAZISE
H
CASTELLO S. ANTONIO
**
41
LAZISE
H
CRISTINA
**
17
LAZISE
H
MARY ROSE
**
16
LAZISE
H
RENATA
**
21
LAZISE
H
VERONA LAGO
**
39
LAZISE
H
AQUILA
*
20
LAZISE
H
CAMPAGNOLA
*
14
LAZISE
H
DAL BAFFO
*
18
LAZISE
H
MIO
*
21
LAZISE
H
TECLA
*
22
LAZISE
APA
CORTE SAN CARLO
5L
30
LAZISE
APA
CORTE CASARA
3L
99
LAZISE
ROO
MASTER AFFITTACAMERE
3L
12
LAZISE
ROO
ORESTE SUITE
3
9
LAZISE
ROO
VILLA CHIARA
2L
10
LAZISE
ROO
BETTY'S HOUSE
2L
12
LAZISE
ROO
LOCANDA ALLA CHIESA
2L
9
LAZISE
ROO
VIALEROMADODICI
4L
12
LAZISE
LEGENDA
H = Hotel
APA = Apartments
ROO = Rooms
FAR = Farmhouse