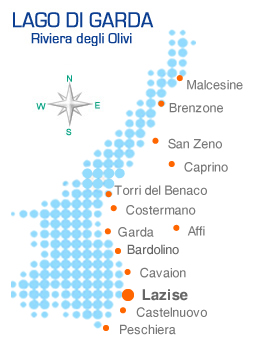 Welcome to Lazise!
Lazise is a well-known tourist resort on the Riviera degli Olivi of Lake Garda, characterized by a picturesque old centre surrounded by old towers and crenelated walls which give it a typical medieval atmosphere.
Grandiose memories of its past splendour can be found in its characteristic lanes and small squares: the Castle, the Church of San Nicolò and the historic building of the Dogana Veneta (Venetian Customs House), today an important venue for meetings and conferences.
Thanks to its enviable position on the lake, for several centuries the harbour of Lazise was of considerable strategic importance for military and commercial reasons.
In addition to this peculiarity, Lazise can count on a source of thermal water in Colà and on amusement parks, zoos and aquatic parks in the vicinity. A landscape of verdant hills surrounds the town. The territory of Lazise includes a stretch of the lakeshore with long beaches and an extensive inland area which is ideal for hiking and cycling on gentle slopes, for a holiday in close contact with nature. The ferry which calls at various places on Lake Garda docks at the harbour.
Lazise is easy to reach by car and train as it is close to the A4 motorway exits and the railway station of Peschiera del Garda. Verona with its international airport is about 23 kilometres away.